sushi workshop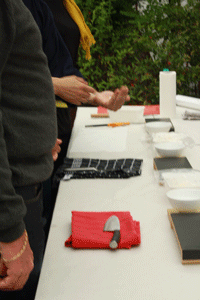 Sushi workshop
half session sushi workshop :
70-90min
35 euro/person ex vat
This is more suitable for bigger group.
It will be spreading into 2 teams, maki and nigiri team, and he/she need to choose which group to join.
From the formulation of rice to cut of fish, there are many tasks on each team.
All the sushi made by participants will be shared by everyone, eating experience is a part of important practice.
Full session sushi workshop:
150-180 min
65 euro/person ex vat
This is a professional course.
Every participant will produce both maki and nigiri which will be guided step by step.
Other important lecture is included.
Extra cost:
Transportation and administration cost apply on top.
Location setting:
I need bunch of tables, no kitchen setting is required for both course.